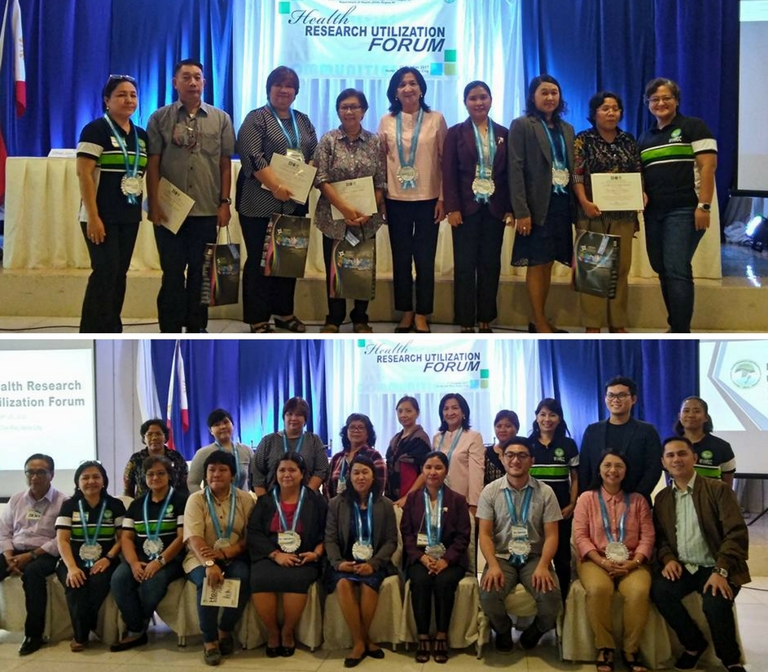 The Western Visayas Health Research and Development Consortium (WVHRDC) organized a Health Research Utilization Forum last October 27, 2017 at Hotel Del Rio, Iloilo City. In the activity, four completed researches funded by the WVHRDC were presented by four researchers from different institutions. The forum was attended by a total number of 81 participants.
The first study presented was entitled "Modelling Dengue Cases in Iloilo Using Hierarchial Generalized Linear Models" by Mr. Elfred John C. Abacan from the University of the Philippines Visayas. Following the presentation was the giving of feedback from the invited reactors from different institutions. For the study of Mr. Abacan, Dr. Roel A. Alli of West Visayas State University (WVSU)- College of Agriculture and Forestry and Mr. Roderick M. Napulan from the Health Facility Development Management Bureau were the chosen reactors.
Next to Mr. Abacan was the presentation of Dr. Sheilla M. Trajera from University of St. La Salle of the research entitled "Health Seeking Behavior and Socio Economic Profile of the Select Indigenous Peoples (IPs) Communities in Negros Occidental: Basis for Policy Review". The reactors for Dr. Trajera's study were Ms. Kezzie Lyn B Hilado, a project associate of Health Policy and Development Program (Visayas), UP Visayas Foundation and Ms. Milina Jeruta from National Commission on Indigenous People.
Ms. Janice L. Amarante of Iloilo Doctors' College was the third researcher who presented the study entitled "Antibacterial and Antifungal Activity of Snake Plant (Sanseviera trifasciata) Leaf Extract". The chosen reactors for this study were Dr. Jeannemar Genevive Yap-Figueras from WVSU-College of Arts and Sciences (CAS) and Dr. Resurreccion B. Sadaba from UPV-CAS.
The last presentation was by Ms. Analyn Sa-an of St. Paul University Iloilo who presented the study entitled "Antiangiogenic Properties of Sargassum polycystum" Extracts in Duck Chorioallantoic Membrane (CAM)". Dr. Jane S. Geduspan of UPV was the invited reactor for the said study.
Representatives from the Philippine Council for Health Research and Development also attended the forum. The activity intended to boost the confidence of each researcher and motivate them to conduct more research in the future.
Written by: Gladys Mae C. Jimenez