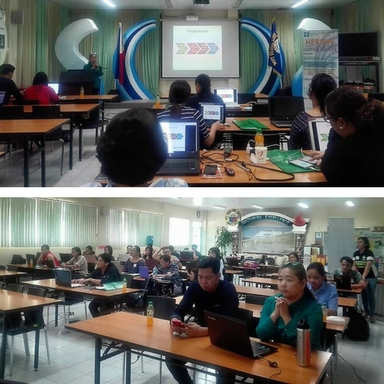 The Philippine Council for Health Research and Development (PCHRD) together with Western Visayas Health Research and Development Consortium (WVHRDC) conducted its first training on Health Research and Development Information Network (HERDIN) last October17, 2017 at CTE Building, West Visayas State University. The training was attended by 15 participants representing 12 institutions including librarians, IT personnel, doctors and research staff. 
Ms. Violeta Intia, a Senior Science Research Specialist from PCHRD started the activity by discussing the overview of the workshop as well as setting the goals and objectives. During the lecture of Ms. Intia, she defined HERDIN as an online platform for bibliographic entries of completed researches in the Philippines. One of its objectives is to equip health research institutions the knowledge to make good use of the available resources. Following the lecture was the workshop proper conducted by Ms. Intia, Ms. Jeverly Principe, and Ms. Judy Ann Bacud of PCHRD. The workshop included lectures on ways to encode and upload to the database, searching researches, and document delivery. At the end of the session, each participant was tasked to come up with an output that will serve as an entry of their respective institution in the database. 
The primary aim of the training is to encourage health research institutions to participate in strengthening the dissemination of information resources as part of managing knowledge for better health. 
Written by: Gladys Mae C. Jimenez