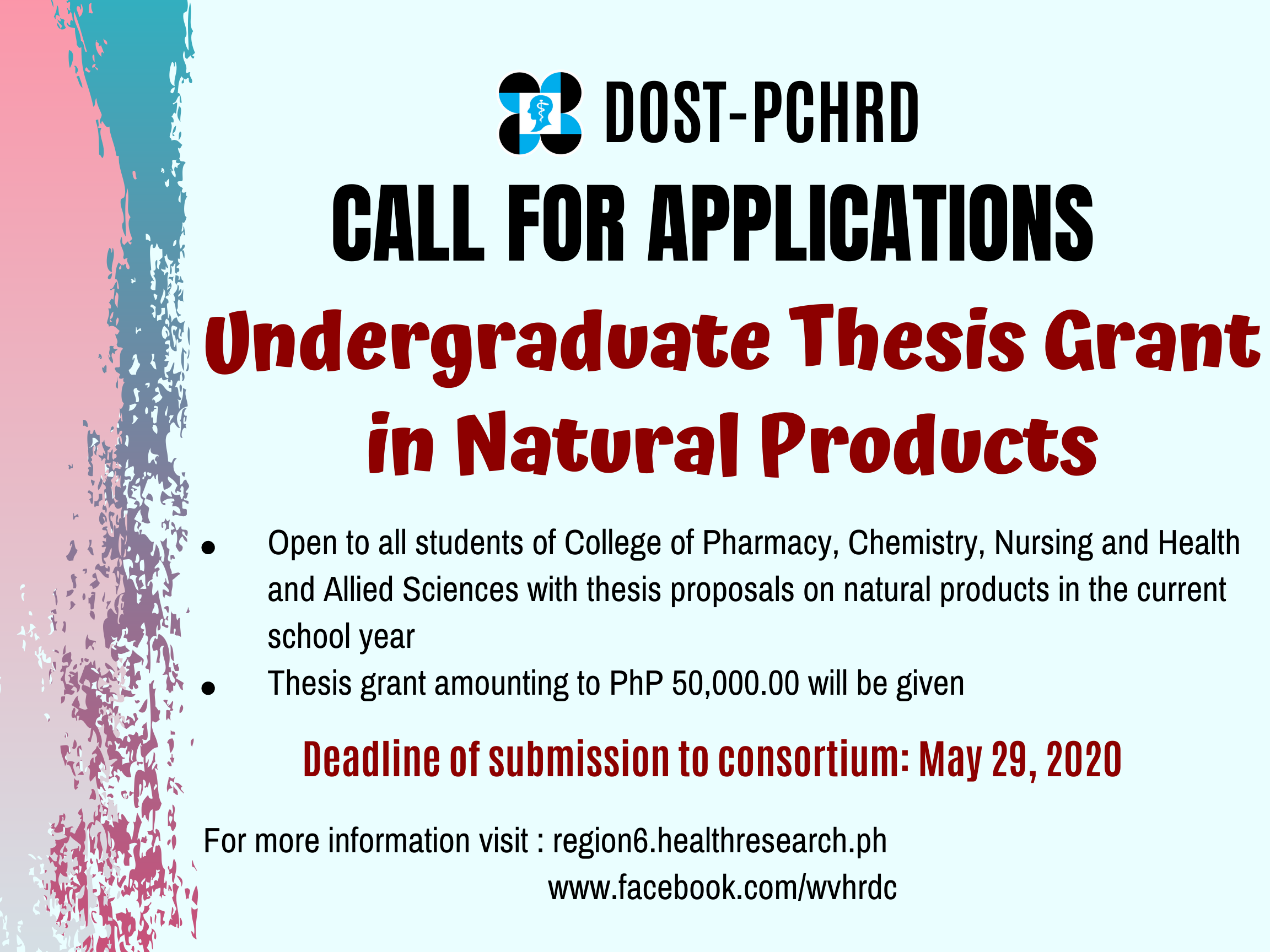 The Department of Science and Technology- Philippine Council for Health Research and Development (DOST-PCHRD) is pleased to announce the call for nominations for the 3rd year implementation of the DOST-PCHRD- Undergraduate Thesis Grant in Natural Products.
The program aims to sustain a research culture in natural products to increase the number of research and later on build a pool of researchers/experts specializing in the field. It supports the Drug Discovery and Development Program of the Department of Science and Technology-Philippine Council for Health Research and Development (DOST-PCHRD) which aims to develop safe, effective and affordable alternative drugs from the country's natural resources.
The search is open to all undergraduate students of Colleges of Pharmacy, Chemistry, Nursing and Health and Allied Sciences who have thesis proposals on natural products in the current school year. All nominees must submit the following documents to the Western Visayas Health Research and Development Consortium (WVHRDC):
Duly accomplished prescribed research proposal form with college seal

Endorsement letter from the institution signed by the head of the university/college dean

Soft copy of the proposal (MS Word Format)

Hard copy of the proposal using A4 paper

Certificate of plant authentication (if applicable)

Curriculum vitae of the students and adviser using the prescribed form

Applicable clearances:
Ethics Clearance from a PHREB accredited Research Ethics Committee for studies involving human subjects.

Animal Research Permit from the Bureau of Animal Industry (BAI) for studies involving animals.

Free and Prior Informed Consent from National Commission on Indigenous People for studies involving indigenous people.

Gratuitous Permit from the Protected Area and Management Board of DENR for studies involving collection of samples from protected areas.

Biosafety Clearance from institutional biosafety committees for studies involving genetic engineering and pathogenic organisms.
Nominations with incomplete requirements will automatically be excluded from the list of official entries. For the guidelines and forms, click here.