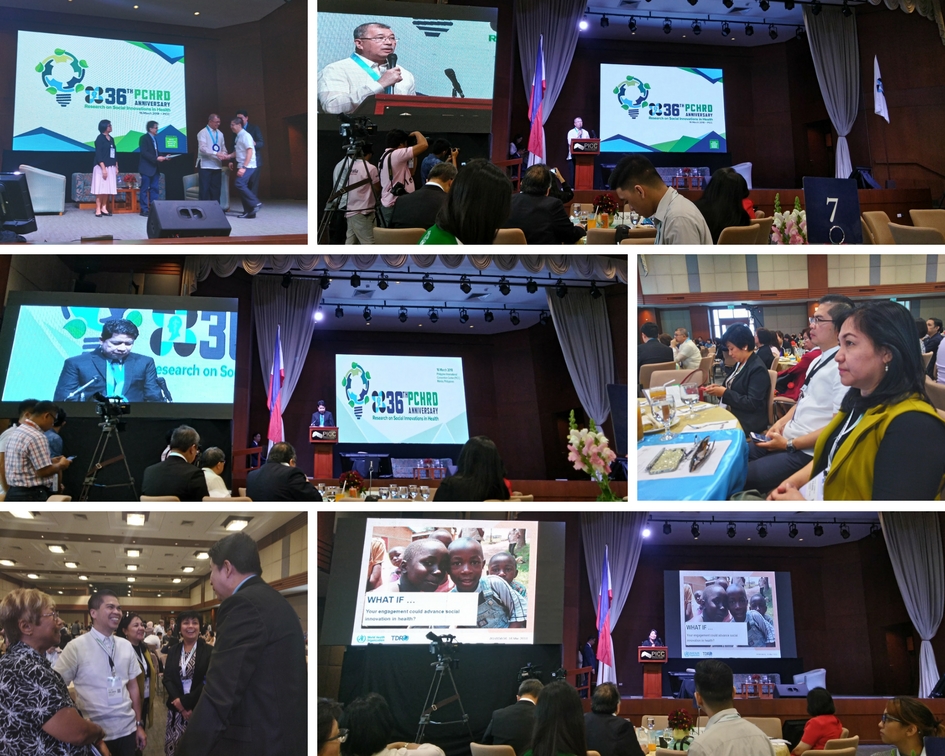 The Philippine Council for Health Research and Development (PCHRD) celebrated its 36th year with the theme "Research on Social Innovations in Health" last March 16, 2018 at the Philippine International Convention Center (PICC), Pasay City. It was attended by an array of individuals coming from the different regions and institutions in the country. The Western Visayas Health Research and Development Consortium (WVHRDC) was represented by Research Utilization Committee (RUC) Chair Prof. Lerma L. Paris and one secretariat, Gladys Mae C. Jimenez.
The program started with welcoming remarks from the PCHRD Executive Director Jaime C. Montoya followed by a message by Department of Science and Technology (DOST) Secretary Fortunato T. De La Peña. The keynote speaker for the event was Dr. Bernadette Ramirez from the World Health Organization-Tropical Disease Research where she discussed the importance of innovations in health regardless the magnitude. These innovations should be disseminated and implemented to the people especially those living in the countryside and remote areas. She highlighted that no matter what the extent of these innovations, it will have a huge impact on the community.
During the morning program, newly accredited Research Ethics Committees were awarded. University of San Agustin (USA) from Region 6 was renewed for another two (2) years of their PHREB Accreditation and Dr. Jonel P. Saludes represented the university and received the certificate.
In the afternoon, Prof. Paris and Ms. Jimenez attended the parallel session "Engaged: Communicating Health Research in Everyday Language" wherein resource persons talked about content management, managing social media accounts effectively and the dos and donts in developing and implementing an effective communication plan. The lectures were helpful and will be of great use in the management of WVHRDC website and other social media accounts.